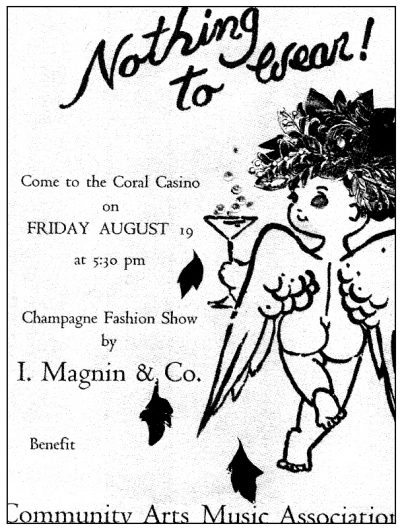 In the 1960s, Women's Board-sponsored CAMA concert Preview Lectures continued with speakers such as Dr. Raymond Kendall. Ethel-May Dorsey Conrad, writing in 1980 on the history of the Women's Board, notes that "in 1964… [President Naomi MacLean] started a cookbook, and sent her members scurrying over the country to procure recipes from famous persons. The collection was called 'Cooking with the Stars'. It sold for $5.00 per copy and by 1965 Naomi's cookbook had netted a profit of $2,906.35…"
Women's Board Fashion Shows were the most lucrative fund-raising events. President Lee Ott sponsored the first I. Magnin Fashion Show in 1966, given at the Coral Casino. Conrad writes that "when Beverly Jackson described it in her column in the News-Press, she gave almost as much attention to the gowns worn by the patrons as she did to the creations worn by the models."
Starting in the 1960s, the Women's Board organized a number of bus trips. Each spring the women selected a concert at the Hollywood Bowl. Other bus trips were to concerts at the Music Center, Shrine Auditorium, the PCPA Theatre at Allan Hancock College in Santa Maria and the Theaterfest in Solvang.
CAMA celebrated its 50th Concert Season in 1968|69, commemorated by a proclamation from Mayor W. Don MacGillivray.
Notable concerts from the 1960s included performances by the Cleveland Orchestra with George Szell (twice), the New York Philharmonic (twice) with Leonard Bernstein and Seiji Ozawa, the Concertgebouw Orchestra with Eugen Jochum, and the Philadelphia Orchestra with Eugene Ormandy (twice); recitals by pianists Van Cliburn, Rudolf Serkin, Artur Rubinstein, Robert Casadesus, and Wilhelm Kempf, and violinist Isaac Stern; and appearances with orchestra by violinist Henryk Szeryng, soprano Marilyn Horne, pianists Philippe Entremont, Alfred Brendel (twice), and André Watts, and violinists Izthak Perlman and Ruggiero Ricci.