About CAMA's Venues
---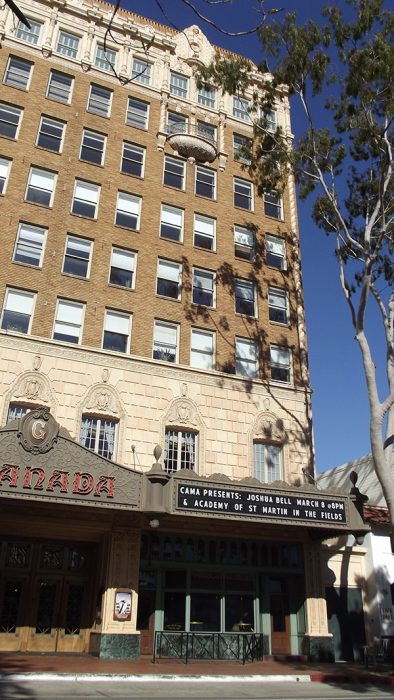 The Granada Theatre:
Santa Barbara Center for the Performing Arts
The Granada Theatre is home of the area's finest performing arts companies, including CAMA's International Series. Originally formed as a non-profit organization in 1983, Santa Barbara Center for the Performing Arts reinvigorated in 1997 with the vision of creating a world class performing arts center to serve Santa Barbara and the region. SBCPA mobilized to fully renovate one of the city's historic downtown theaters, The Granada, originally constructed in 1924. This storied venue, the anchor of Santa Barbara's Cultural District, underwent monumental restoration and re-opened in March 2008.
SBCPA spearheaded a remarkable plan for the restoration of The Granada. With the help of the New York firm Sachs Morgan — theatre consultants for The Pantages in Los Angeles, The Orpheum in San Francisco and ten Broadway theatres — an amazing vision became reality when the historic entertainment palace re-opened March 2008. To preserve The Granada Theatre's historic charm, period fixtures and other decorative elements were added throughout the theatre, lobby and lounges, bringing renewed beauty and splendor to the space. The old theater's original chandelier, stored in a closed-off balcony for years, was restored to its place of honor, along with a vibrant mural above the proscenium arch, the original Granada Alhambra drop curtain, and decorative niches adorning the theater walls.
---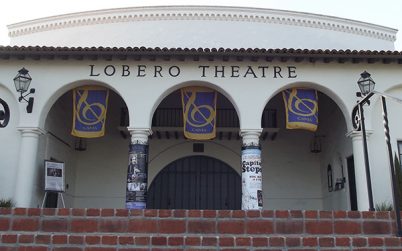 Home for CAMA's Masterseries, the Lobero Theatre is California's oldest, continuously operating theater. Originally founded in 1873, it was rebuilt in 1924 for the Drama and Music Branches of the Community Arts Association (whose Music Branch continues today as CAMA). The Lobero is recognized as one of Santa Barbara's architectural jewels and as a California and Santa Barbara landmark. The venue is operated by the Lobero Theatre Foundation, whose mission is to maintain, improve and operate the historic theater as a performing arts center and cultural asset to the Santa Barbara community, and to present the highest quality productions in music, dance and theatre. Performers enjoy the Lobero's comfortable, community atmosphere, which has drawn local and national celebrities since the beginning. The Lobero's convenient location between Los Angeles and San Francisco has also attracted the most talented musicians, dancers, and actors, helping to establish the Lobero as one of California's great intimate venues. Equally treasured for its architecture, the venue has undergone recent renovations bringing new seats, expanded restrooms, and other upgrades designed to ensure the Lobero remains a cherished community resource.
---
Historical Venues
Other venues at which CAMA and its parent organizations have presented include the Potter Theatre (destroyed by the great earthquake of 1925), Santa Barbara High School's Auditorium, and the Arlington Theatre, among others.