INTERNATIONAL SERIES
at the Granada Theatre
Season Sponsor:
SAGE Publishing
CAMA's 2022/2023 International Series at the Granada Theatre offers a musical time capsule featuring five great orchestras with histories that extend back more than a century. Anchored by two of America's greatest orchestras—the Chicago Symphony Orchestra (founded 1891) with legendary Maestro Riccardo Muti conducting in his final season as CSO Music Director; and the Los Angeles Philharmonic (CAMA's century+ concert partner founded 1919) with beloved Music Director Gustavo Dudamel performing two LA Phil-commissioned World Premieres—the season opens in October with the historic City of Birmingham Symphony Orchestra (founded in England in 1920 by Sir Edward Elgar) under the baton of the dazzling Mirga Gražinytė‑Tyla joined by the remarkable young British cellist Sheku Kanneh‑Mason whose televised 2018 performance at the Royal Wedding of Prince Harry and Meghan Markle was watched by nearly two billion people worldwide. Rounding out the orchestral season will be one of central Europe's top orchestras, the Filharmonie Brno (of the Czech Republic) with roots going back to the 1870s and the great Czech composer Leos Janáček, under the baton of the acclaimed American conductor Dennis Russell Davies in an all‑Czech program. Then CAMA will reset the musical time capsule to the future with a special concert with the Curtis Symphony Orchestra, featuring 100+ extraordinary aspiring young master musicians from Philadelphia's Curtis Institute of Music (founded 1920) under the direction of the esteemed conductor Osmo Vänskä, (Music Director of the Minnesota Orchestra), and joined by legendary piano master Yefim Bronfman, showcasing the sparkling virtuosity and masterful artistry of these exceptional young talents of tomorrow. Join CAMA for our upcoming 104th Season in a musical celebration of the Past, Present, and Future! •
SEASON SUB­­SCRIP­TIONS ON SALE NOW!
CAMA — (805) 966‑4324 — camasb.org
SINGLE TICKETS ON SALE FRIDAY, SEPTEMBER 9, 12:30PM
Granada Theatre Box Office — (805) 899‑2222 — granadasb.org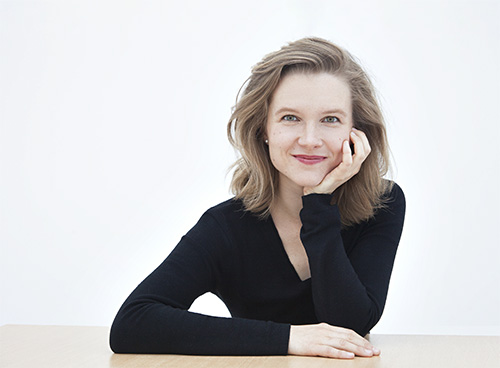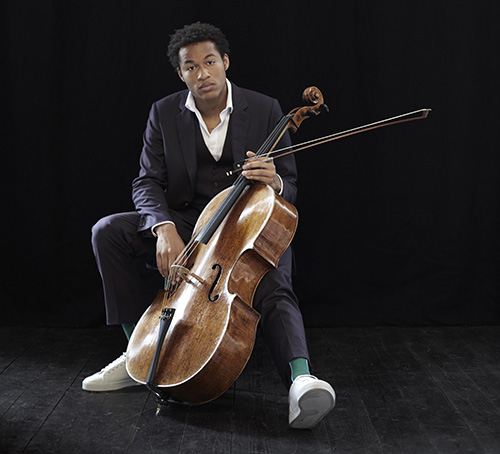 MONDAY, OCTOBER 10, 2022, 7:30PM
City of Birmingham Symphony Orchestra
Mirga Gražinytė‑Tyla
Music Director
Sheku Kanneh‑Mason
 cello
The City of Birmingham Symphony Orchestra is the flagship of musical life in Birmingham—and one of the world's great orchestras. The tradition began with their very first concert back in 1920—conducted by Sir Edward Egar. The CBSO became internationally famous when conductor Simon Rattle took the helm in 1980. In 2016, the CBSO welcomed the appointment of Mirga Gražinytė-Tyla, a native of Vilnius, Lithuania, as its Music Director, following her time with the Los Angeles Philharmonic as a Dudamel Fellow, Assistant Conductor, and Associate Conductor. British cellist Sheku Kanneh-Mason became a household name in 2018 after performing at the wedding of Prince Harry and Meghan Markle at Windsor Castle, watched by nearly two billion people globally. Sheku's album Elgar on the Decca Classical label made him the first cellist in history to reach the UK Top 10.
PROGRAM:
RALPH VAUGHAN WILLIAMS: Fantasia on a Theme by Thomas Tallis
SIR EDWARD ELGAR: Cello Concerto in E Minor, Op.85
MIECZYSŁAW WEINBERG: "Jewish Rhapsody," from Festive Scenes, Op.36
CLAUDE DEBUSSY: La Mer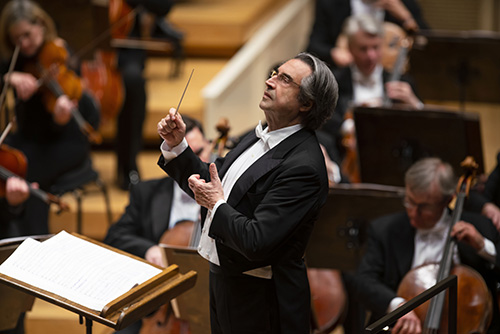 WEDNESDAY, JANUARY 25, 2023, 7:30PM
Chicago Symphony Orchestra
Riccardo Muti
Music Director
"The world needs harmony. Music helps us to understand each other's point of view."
— Riccardo Muti
Consistently hailed as one of the leading orchestras in the world, the legacy of the Chicago Symphony Orchestra and Music Director Riccardo Muti marks an extraordinary chapter in the CSO's 132‑year history. One of the world's preeminent conductors, Maestro Muti's tenure with the CSO concludes in 2023, marking the thirteenth and final year of an exceptional musical partnership that has thrilled audiences in Chicago and around the world. The CSO's talented musicians are the driving force behind the ensemble's famous sound heard on best‑selling recordings and annually at more than 150 concerts at Symphony Center in Chicago, summers at Ravinia, and tours in the United States and abroad. Listeners around the world can hear the CSO in weekly airings of the CSO Radio Broadcast Series.
PROGRAM:
LUDWIG VAN BEETHOVEN: Coriolan Overture
BEETHOVEN: Symphony No.8 in F Major, Op.93
ANATOLY LYADOV: The Enchanted Lake
MODEST MUSSORGSKY: Pictures at an Exhibition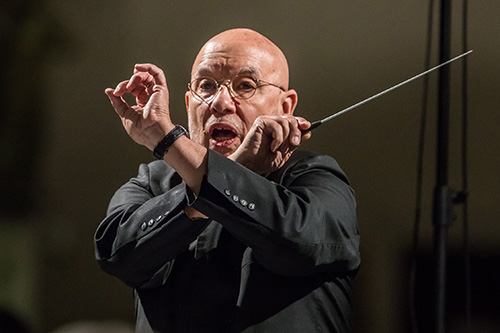 MONDAY, FEBRUARY 13, 2023, 7:30PM
Filharmonie Brno
(of the Czech Republic)
Dennis Russell Davies Artistic Director & Chief Conductor
Maki Namekawa piano
Christian Schmitt organ

The roots of Filharmonie Brno go back to the 1870s, when young composer Leos Janáček endeavored to establish a Czech symphony orchestra in Brno (the traditional capital of Moravia), now the second largest city in the Czech Republic after Prague. The present orchestra was created in 1956 and has been among the leading Czech orchestras in both size and importance. For more than a half century, Dennis Russell Davies has conducted the world's finest orchestras and opera companies and is widely considered one of the most innovative and adventurous conductors. In 2018, he became the Artistic Director and Chief Conductor of the Filharmonie Brno where the programing of works by Janáček has always been at the core of the orchestra's repertory. Appropriately, Maestro Davies's upcoming CAMA concert will feature an outstanding all-Czech program of works by three of the greatest Czech composers: Martinů, Janáček, and Dvořák. Maki Namekawa is a leading figure among today's pianists, bringing to audiences' attention contemporary music by international composers. In 2019 Philip Glass composed his first Piano Sonata especially for Maki Namekawa, which she premiered that year at Piano-Festival Ruhr. Christian Schmitt has become one of the world's most sought‑after organists, praised for his virtuosic and charismatic playing. Since 2014, he has served as Principal Organist of the Bamberger Symphoniker, where he also curates the organ series for the Bamberg Concert Hall.
PROGRAM:
BOHUSLAV MARTINŮ: Sinfonietta "La Jolla," H.328
LEOŠ JANÁČEK: Taras Bulba
ANTONÍN DVOŘÁK: Symphony No.6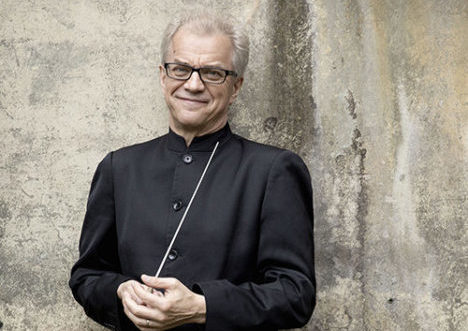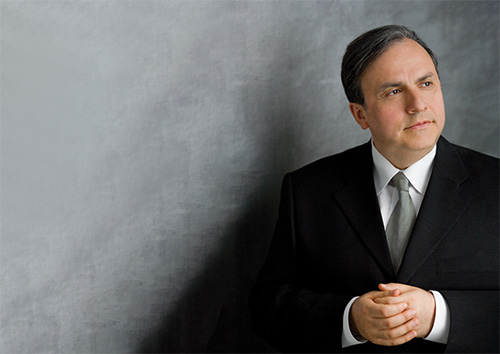 THURSDAY, MAY 18, 2023, 7:30PM
Curtis Symphony Orchestra
(Curtis Institute of Music/​Philadelphia)
Osmo Vänskä conductor
Yefim Bronfman piano
CURTIS ON TOUR
This performance is part of CURTIS ON TOUR, the Nina von Maltzahn Global Touring Initiative of the Curtis Institute of Music.
"otherworldly ensemble and professional level of sophistication"
–The New York Times

Founded in 1920, Philadelphia's Curtis Institute of Music is one of the top music schools nationally and internationally. Names such as Samuel Barber, Leonard Bernstein, Peter Serkin, Yefim Bronfman, Lang Lang, and Yuja Wang are amongst the dozens of notable Curtis alumni. Maestro Leopold Stokowski predicted that Curtis would "become the most important musical institution of our country, perhaps of the world." Each year the 100+ extraordinary aspiring young musicians of the Curtis Symphony Orchestra work closely with internationally renowned conductors and Curtis's celebrated faculty, then go out and play concerts in the United States and around the globe that the Washington Post has hailed as "exhilarating from beginning to end." This unique professional training has enabled Curtis alumni to assume prominent positions in many of America's and the world's leading orchestras. Under the direction of the esteemed conductor Osmo Vänskä, (Music Director of the Minnesota Orchestra) and joined by legendary pianist Yefim Bronfman, the upcoming CAMA concert will showcase the sparkling virtuosity and artistry of tomorrow's exceptional classical music talents.
PROGRAM:
DAI WEI: New Work to‑be‑announced (commissioned for this tour)
ROBERT SCHUMANN: Piano Concerto in A Minor, Op.54
NIKOLAI RIMSKY-KORSAKOV: Scheherazade, Op.35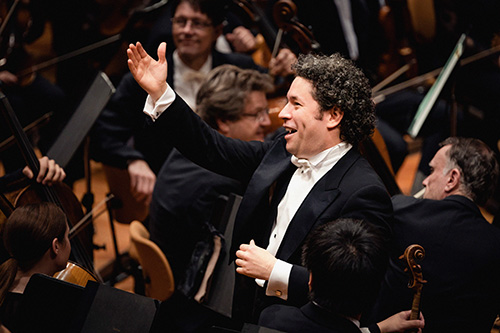 SUNDAY, MAY 28, 2023, 4:00PM
Los Angeles Philharmonic
Gustavo Dudamel Music Director
Gabriel Cabezas cello
Gustavo Dudamel is driven by the belief that music has the power to transform lives, to inspire, and to change the world. Through his dynamic presence on the podium and his tireless advocacy for arts education, Dudamel has introduced classical music to new audiences around the globe and has helped to provide access to the arts for countless people in underserved communities. As the Music & Artistic Director of the Los Angeles Philharmonic, Dudamel's bold programming and expansive vision led The New York Times to herald the LA Phil as "the most important orchestra in America—period." The orchestra's May 28 concert will feature two LA Phil‑commissioned World Premieres of works by noted American composers Ellen Reid and Gabriella Smith, with cellist Gabriel Cabezas as soloist in Smith's Lost Coast, inspired by her reflections on climate change.
PROGRAM:
ELLEN REID: "West Coast Sky Eternal" (for string orchestra) From Soundwalk Los Angeles (world premiere, LA Phil commission)
GABRIELLA SMITH: Lost Coast, concerto for cello and orchestra (world premiere, LA Phil commission)
LUDWIG VAN BEETHOVEN: Symphony No.7 in A Major, Op.92