MASTER­SERIES
at the Lobero Theatre
Season Sponsor: Esperia Foundation
CAMA's 2022/2023 Masterseries marks the 40th Anniversary of this treasured Santa Barbara cultural mainstay, where the world's finest classical soloists and chamber musicians play in the intimate setting of our own Lobero Theatre. This is a season of grand returns to the Lobero stage, as we welcome back musicians who have given some of the most memorable performances in Lobero, Masterseries and CAMA history! — The Juilliard String Quartet, with former UCSB Music faculty member and JSQ's most senior member Ronald Copes (violin) and welcoming newest member Molly Carr (viola) bring a program to include Beethoven's final quartet. ⳼ French pianist Hélène Grimaud will play Schumann's Kreisleriana and a riveting collection of eccentric piano miniatures. ⳼ CAMA and the Lobero Theatre Foundation team up to celebrate this grand venue's 150th Anniversary with a concert by The Romeros ("The Royal Family of the Guitar") whose career as a quartet began on the Lobero stage itself in 1961! ⳼ And, with his trademark unsurpassable musicianship and interpretive artistry, internationally celebrated violin­ist Augustin Hadelich returns to perform a concert of solo violin masterworks. •
SEASON SUB­­SCRIP­TIONS ON SALE NOW!
CAMA — (805) 966‑4324 — camasb.org
SINGLE TICKETS ON SALE NOW!
Lobero Theatre Box Office — (805) 963‑0761 — lobero.org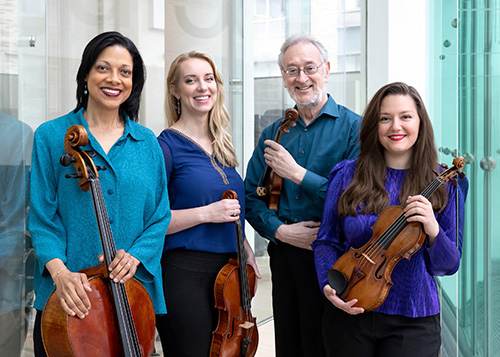 MONDAY, OCTOBER 24, 2022, 7:30PM
Juilliard String Quartet
Areta Zhulla
violin
Ronald Copes
violin
Molly Carr
viola
Astrid Schween
cello
With unparalleled artistry and enduring vigor, the Juilliard String Quartet—celebrating its 75th Anniversary this season—​continues to inspire audiences around the world. Founded in 1946 and hailed by the Boston Globe as "the most important American quartet in history," the ensemble draws on a deep and vital engagement to the classics, while embracing the mission of championing new works. Each performance of the Juilliard String Quartet is a unique experience, bringing together the four members' profound understanding, total commit­ment and unceasing curiosity in sharing the wonders of the string quartet literature. Ronald Copes, former faculty member in UCSB's Department of Music, has played with the Juilliard String Quartet since 1997. In May 2022, the Quartet named violist Molly Carr to its ensemble, filling the void left by the passing of Carr's mentor and friend, much-loved violist Roger Tapping.
LUDWIG VAN BEETHOVEN: Quartet No.16 in F Major, Op.135
ELEANOR ALBERGA: Quartet No.2 (1994)
ANTONÍN DVOŘÁK: Quartet No.14 in A-flat Major, Op.105, B.193
Members of the Juilliard String Quartet will offer a
MASTER CLASS
to string students in the Department of Music at UC Santa Barbara.
SUNDAY, OCTOBER 23, 2022, KARL GEIRINGER HALL, 2:00PM.
Parking on the UC Santa Barbara Campus:
Monday through Friday between the hours of 7:30AM–5:00PM, many lots and spaces are reserved for faculty and staff permit parking. For events taking place during these hours, we ask that patrons
park in structures 18 or 22.
View the
Interactive Campus Map
to locate any parking lot or structure.
For more information, please see Maps and Directions
.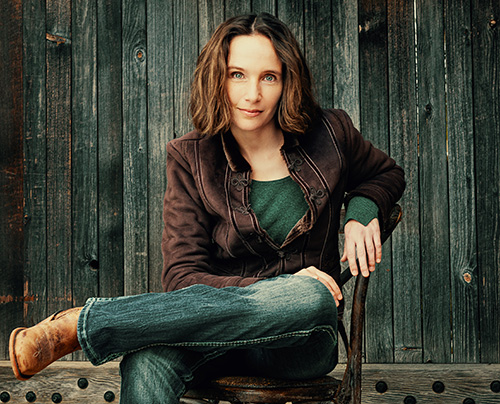 WEDNESDAY, DECEMBER 7, 2022, 7:30PM
Hélène Grimaud
piano
French pianist Hélène Grimaud is a deeply passionate and committed musical artist with an original and probing mind who takes no note for granted. Her poetic expression and peerless technical control have drawn comparisons to Martha Argerich and Jorge Bolet. Her contribution to and impact on the world of classical music were recognized by the French government with admission to the Ordre National de la Légion d'Honneur (France's highest decoration) at the rank of Chevalier (Knight). In her role as a passionate wildlife conservationist, Grimaud established the Wolf Conservation Center in upper New York State, which offers education about wolves, their relationship to the environment, and the human role in protecting their future.
VALENTIN SILVESTROV: Bagatelle I
CLAUDE DEBUSSY: Arabesque No.1
VALENTIN SILVESTROV: Bagatelle II
ERIK SATIE: Gnossienne No.4
FRÉDÉRIC CHOPIN: Nocturne No.19 in E Minor. Op.72, No.1
ERIK SATIE: Gnossienne No.1
ERIK SATIE: Six pièces froides IV—"Danses de travers No.1: En y regardant à deux fois"
CLAUDE DEBUSSY: La plus que lente
FRÉDÉRIC CHOPIN: Mazurka in A Minor, Op.17, No.4
FRÉDÉRIC CHOPIN: Waltz No.3 in A Minor, Op.34, No.2
CLAUDE DEBUSSY: "Clair de lune" from Suite bergamasque
CLAUDE DEBUSSY: Rêverie
ERIK SATIE: Six pièces froides V—"Danses de travers No.2: Passer"
ROBERT SCHUMANN: Kreisleriana, Op.16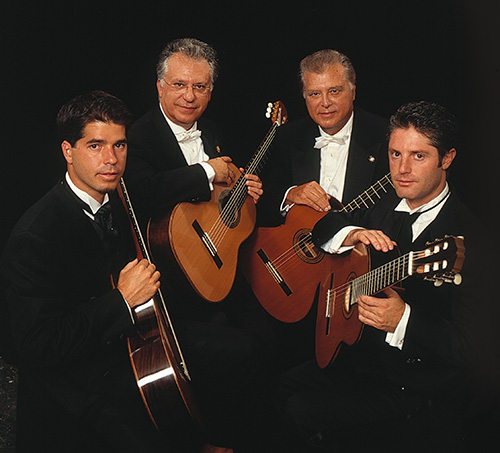 SATURDAY, MARCH 4, 2023, 7:30PM
Los Romeros

The Romero Guitar Quartet
"The Royal Family of the Guitar"
Celin Romero, Pepe Romero, Celino Romero, Lito Romero
Presented by CAMA and the Lobero Theatre Foundation
In Celebration of the Lobero's 150th Anniversary
(February 22, 1873 – February 22, 2023)
Legendary Spanish guitarist Celedonio Romero left his native country in 1957 when his artistic freedom was jeopardized under the Fascist regime of Generalisimo Franco. The Romero family secured permission to travel to Portugal to visit a sick relative, and quickly booked passage from Lisbon to New York, then on to Los Angeles, eventually settling in Santa Barbara. In June 1958 Celedonio made his United States recital debut at the Lobero Theatre, returning the next year with his three sons, Celin, Pepe and Angel, each performing solo guitar works. Then, in April 1961, the family performed together at the Lobero as The Romeros. the first guitar quartet on the international concert scene. In 1990, Celin's son Celino joined the quartet, when Angel left to pursue a solo career; and in 1996, Angel's son Lito joined following Celedonio's death that year. Thus three generations of the Romero musical dynasty have come to be celebrated worldwide over the past 60+ years as "The Royal Family of the Guitar." The Romeros's voluminous discography spans the entire repertoire of the classical guitar from the works of its earliest composers to those of today's masters.
PROGRAM:
RUPERTO CHAPI Y LORENTE:
"Preludio" from
La Revoltosa
ENRIQUE GRANADOS:
Danzas españolas Nos.2 and 5
ISAAC ALBÉNIZ:
Rumores de la Caleta
*
JOAQUÍN MALATS:
Serenata española
*
ALBÉNIZ:
Leyenda
*
LUIGI BOCCHERINI:
"Introduction" and "Fandango" from Guitar Quintet No.4 in D Major, G 448
MANUEL DE FALLA:
"Miller's Dance" from
El Sombrero de tres picos
GEORGES BIZET:
Carmen
Suite: "Habanera" and "Chanson du toreador"
ALBÉNIZ:
Granada
SEBASTIÁN IRADIER:
La Paloma
CELEDONIO ROMERO:
Fantasía cubana
GERÓNIMO GIMÉNEZ:
El Baile de Luis Alonso
PEPE ROMERO:
De Cádiz a la Habana
…and encores from The Romeros's 1961 Lobero performance!
*Solo works performed by Pepe Romero at The Romeros's first Lobero Theatre appearance on April 8, 1961.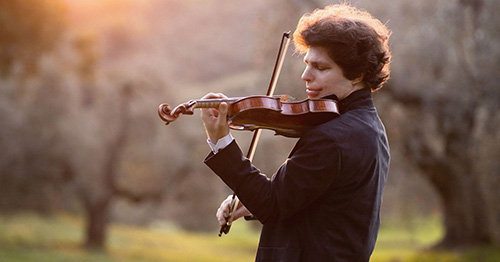 MONDAY, APRIL 24, 2023, 7:30PM
Augustin Hadelich
solo violin
Augustin Hadelich is one of the great violinists of our time. Often referred to by colleagues as a musician's musician, he was named Musical America's 2018 "Instrumentalist of the Year," and is consistently cited worldwide for his phenomenal technique, soulful approach, and insightful interpretations. Hadelich won a 2016 Grammy® Award for "Best Classical Instrumental Solo." Born in Italy to German parents, Augustin Hadelich is now an American citizen. He holds an Artist Diploma from The Juilliard School and received the Gold Medal at the 2006 International Violin Competition of Indianapolis, an Avery Fisher Career Grant (2009), a Borletti-Buitoni Trust Fellowship in the UK (2011), the Warner Music Prize (2015), and was appointed to the violin faculty at Yale School of Music. Augustin Hadelich plays the violin "Leduc, ex-Szeryng" fashioned by Giuseppe Guarneri del Gesù in 1744 and generously loaned to him by a patron through the Tarisio Trust.
PROGRAM:
JOHANN SEBASTIAN BACH: Partita No.3 in E Major, BWV 1006
COLERIDGE-TAYLOR PERKINSON: Blue/s Forms
EUGÈNE YSAŸE: Sonata in A Minor, "Obsession," Op.27, No.2
JOHANN SEBASTIAN BACH: Partita No.2 in D Minor, BWV 1004