MASTER­SERIES
at the Lobero Theatre
Season Sponsor: Esperia Foundation
The 2023/2024 Masterseries at the Lobero Theatre will bring the return of two of the most acclaimed international master pianists of our times, Sir Stephen Hough (Britain) and Hélène Grimaud (France), as well as the return of superstar virtuoso mandolinist Avi Avital (Israel) in duo with the astounding young virtuoso classical accordionist Hanzhi Wang (China). Completing the Lobero concert season will be a very special concert with the Sphinx Virtuosi (United States), the dynamic and inspiring Detroit-based self-conducted 18-piece chamber orchestra dedicated to transforming lives through the power of diversity in the arts, comprised of accomplished Black and Latinx artists.
Architectural Digest conferred an immense honor on the Lobero Theatre in an article showcasing "The 11 Most Beautiful Theaters in the World," placing it among top distinguished venues such as Walt Disney Concert Hall (Los Angeles, California), Opéra Garnier (Paris, France), Sydney Opera House (Sydney, Australia), The Vienna State Opera (Vienna, Austria), and other standout theaters. The current "new" Lobero Theatre opened in 1924 as the home of the Community Arts Association's Drama Branch, and was the venue for the recital and chamber music programming of the CAA Music Branch (today's CAMA). CAMA's Masterseries continues this tradition right where it started—​on the Lobero stage! |CLICK to Read|
SEASON SUBSCRIPTIONS ON SALE NOW
CAMA Office — (805) 966-4324 — camasb.org
SINGLE TICKETS ON SALE NOW
Lobero Theatre Box Office — (805) 963-0761 — lobero.org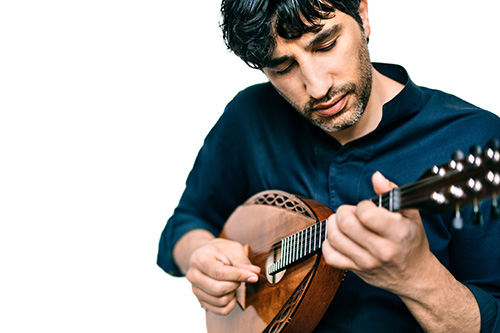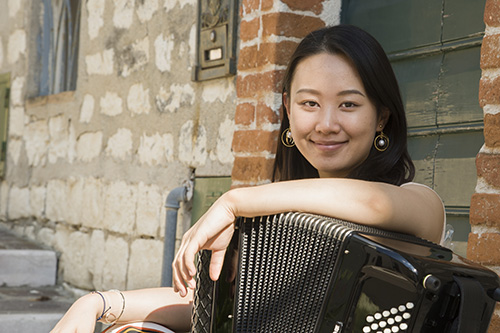 MONDAY, OCTOBER 16, 2023, 7:30PM
Avi Avital
mandolin


Hanzhi Wang

accordion

CONCERT SPONSORS

Principal Sponsor:
Marta Babson

Co-Sponsor:
Jocelyne & William Meeker

Single Tickets On Sale Now!
Read the Program Book
Learn More in THIS ARTICLE from Cal Performances:
Mandolin and Accordion Lend a Fresh Sound to Classical Music

CAMA's Masterseries season opens with a very special evening with Avi Avital and Hanzhi Wang, two virtuoso musicians performing together on instruments not normally expected to be part of a classical music recital. Mandolinist Avi Avital has been compared to Andrés Segovia for his championship of his instrument and to Jascha Heifetz for his incredible virtuosity. A passionate and explosively charismatic performer, his two exhilarating past performances for CAMA with the LA Chamber Orchestra (2018) and Les Violons du Roy (2021) confirmed that he is "a musician who recognizes no boundaries except those of good taste, and who has the artistry to persuade listeners to follow him anywhere." (New York Times)

Acclaimed for her staggering virtuosity, Chinese-born Hanzhi Wang is the only accordionist ever to win a place on the roster of Young Concert Artists in its 60-year history and be named Musical America's "New Artist of the Month." A groundbreaking artist, she is an ambassador for her instrument and has been praised for her captivating stage presence and her masterful performances that display both passion and finesse.
PROGRAM:
KREISLER: Praeludium and Allegro "in the style of Pugnani"
STRAVINSKY: Suite italienne (from Pulcinella)
BACH: "Chaconne," from Partita No.2 in D Minor, BWV 1004 [mandolin solo]
BACH: "Aria" and Variations Nos.1, 7, 14, 18 & 29, from Goldberg Variations [accordion solo]
BARTÓK: Romanian Folk Dances, Sz.56 (1915)
SARASATE: Spanish Dance Op.22, No.1, "Romanza Andaluza"
DE FALLA: "Danse espagnole" No.1 from La vida breve
SAINT-SAËNS: Introduction and Rondo capriccioso in A Minor, Op.28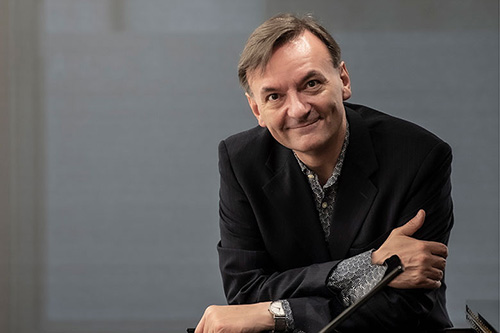 THURSDAY, NOVEMBER 16, 2023, 7:30PM
Sir Stephen Hough
piano
CONCERT SPONSORS
Sponsors:
Alison & Jan Bowlus
Robert Castle
Co-Sponsor:
Anonymous
Concert Partners:
Robert Boghosian & Mary E. Gates-Warren
Christine & Robert Emmons
Single Tickets On Sale Now!
Read the Program Book
One of the most distinctive artists of his generation and a longtime CAMA favorite, Sir Stephen Hough is a true Renaissance man, combining a distinguished international career as a pianist with those of composer, writer, and painter. Named by The Economist as one of "Twenty Living Polymaths" (a person of great learning and varied expertise), he was knighted in the Queen's Birthday Honours in 2022 and was the first classical performer to be awarded a MacArthur Fellowship ("Genius Grant") in 2001. Sir Stephen brings his trademark eloquence and precision to what will be his fifth Masterseries recital appearance at the Lobero, with music by composers close to his heart. From the mysterious and mystical realms of Mompou and Scriabin to the evocative imagery of Debussy and Hough's own Partita, Hough leaves his stamp on all of this repertoire. His recital closes with a suite of pieces selected from the second volume of Liszt's Années de pèlerinage—the famous "Petrarch Sonnets" as well as the astounding "Dante Sonata."
PROGRAM:
MOMPOU: Cants màgics
DEBUSSY: Estampes, L.100
SCRIABIN: Piano Sonata No.5, Op.53
HOUGH: Partita (2019)
LISZT: From the Italian Book of Années de pèlerinage:
Petrarch Sonnets 47, 104, and 123
Après une lecture du Dante: Fantasia quasi Sonata ("Dante Sonata")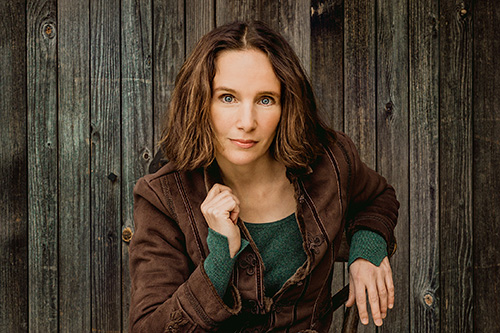 THURSDAY, FEBRUARY 22, 2024, 7:30PM
Hélène Grimaud
piano
CONCERT SPONSORS
Sponsor:
Alison & Jan Bowlus
Co-Sponsors:
The CAMA Women's Board
Jocelyne & William Meeker
Nancy & Byron K. Wood
Concert Partners:
Deborah & Peter Bertling
Robert Boghosian & Mary E. Gates-Warren
French pianist Hélène Grimaud is a deeply passionate artist who strongly believes that music dignifies the human experience by giving voice to thoughts and feelings. She believes that each concert must be an emotional event presented with an intense commitment, sustaining a mood from piece to piece, so that audiences feel pulled into a narrative. With an original and probing mind, she takes no note for granted in her performance—equal parts agile, independent, and elegant—that highlight her breathtaking musical intuition and inventiveness. Her multiple talents extend far beyond the instrument she plays with such passion and focus. She has also established herself as a committed wildlife conservationist, compassionate human rights activist, and writer. Her prodigious contribution to and impact on the world of classical music were recognized by the French government when she was admitted into the Ordre National de la Légion d'Honneur (France's highest decoration) at the rank of Chevalier (Knight). She returns to the Lobero by popular demand with a commanding program of major works by Beethoven, Brahms, and Bach.
PROGRAM:
BEETHOVEN: Piano Sonata No.30 in E Major, Op.109
BRAHMS: 3 Intermezzi, Op.117
BRAHMS: 7 Fantasien, Op.116
BACH, arr. BUSONI: "Chaconne," from Partita No.2 in D Minor, BWV 1004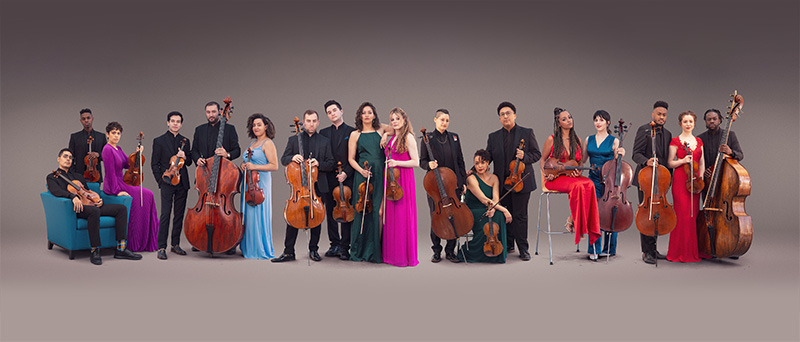 FRIDAY, MARCH 15, 2024, 7:30PM
Sphinx Virtuosi
Xavier Foley & Kebra‑Seyoun Charles string basses
EXCLUSIVE SPONSOR
Bitsy & Denny Bacon and The Becton Family Foundation
"The Sphinx Virtuosi are, quite simply, marvelous."
— The New Yorker
Founded in 1997 in Detroit, but with nationwide reach, the Sphinx Virtuosi is a dynamic and inspiring professional self-conducted chamber orchestra and serves as the flagship performing entity of the Sphinx Organization—the leading social justice non-profit dedicated to transforming lives through the power of diversity in the arts. Comprised primarily of Black and Latinx artists, a critical aim of the Sphinx Virtuosi is to evolve and transform the face of classical music through artistic excellence, pioneering programming, and impassioned community engagement. Its members serve as cultural and diversity ambassadors for audiences and communities around the United States during national tours, and perform annually at Carnegie Hall where The New York Times has praised the group as "…top-notch…more essential
at this moment than ever…a vibrant, assured performance."
PROGRAM:
BLACHE: Habari Gani [new work for Sphinx Virtuosi]
FARIAS: Abran Paso [new work for Sphinx Virtuosi]
CASSARRUBIOS: Herencia [new work for Sphinx Virtuosi]
HAILSTORK: "Dona Nobis Pacem," and "Exultate" from Sonata da Chiesa
FOLEY: Concertante for 2 double bass soloists with string orchestra, "Galaxy"
[new work for Sphinx Virtuosi]
PERKINSON: Sinfonietta No.2, "Generations"